The 2021 Subaru Love Promise Customer and Community Commitment Award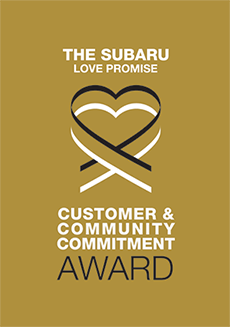 We've been nationally recognized for our dedication to our customers, our community, and the Subaru Love Promise.
We're honored to receive the 2021 Subaru Love Promise Customer and Community Commitment Award. This award nationally recognizes elite Subaru retailers who provide an exceptional customer experience at every interaction with Subaru. These retailers have also demonstrated an outstanding commitment to supporting passions and causes in their local communities in important areas such as the environment, community, health, education, and pets.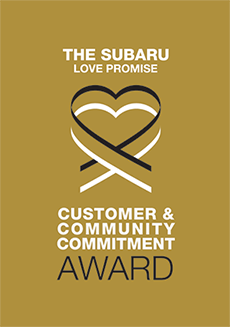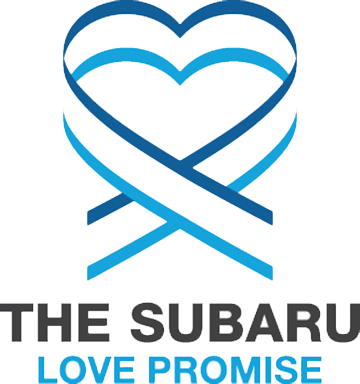 What is the Subaru Love Promise?
Subaru and our retailers believe in making the world a better place and the Subaru Love Promise is our vision of respecting all people. This is our commitment to show love and respect to our customers and to work to make a positive impact in the world.
How is Cascade Subaru dedicated locally to the Love Promise?
Our Love Promise can be seen in various partnerships with local charities and non-profits. We're grateful for the opportunity, not only to be a part of our community, but to serve it as well.
Conservancy/Cuyahoga Nat'l Par
Victim's Assistance, 91.3 The Summit Public Radio, WKSU Public Radio, Youth for Understanding
Love Promise Stories from Cascade Subaru
Subaru and Cascade Subaru believe in making a positive impact on the communities in which we live and work. We uphold that belief through our Love Promise Community Commitment. Every month, we select inspiring stories from customers and partners from around our area who strive to support our collective commitment and feature them here
A Partnership that Gives Hope - Louise D
The Humane Society of Summit County cannot thank Cascade Subaru enough for their continued support of our lifesaving mission to rescue, rehabilitate, and adopt Summit County's most vulnerable animals. Throughout the years, Cascade Subaru has generously supported in many ways and their kindness has helped to raise awareness for the importance of adoption. In Spring 2021, we hosted a joint virtual event encouraging adopters to share photos of their rescued pets to promote adoption and raise support by offering prizes from Cascade and Subaru. Of the dozens of photos submitted, the winner of the contest was Bo, a senior dog with degenerative myopathy and paralysis in his back legs. He loved to go for walks and meet people in his wheelchair. Sadly, Bo passed away from his condition after the contest, but his family found comfort in the number of people who were touched by his story and who were encouraged to make a dog's life as happy as can be, even for just a short time. Cascade's partnership far exceeds their financial support. Dave Hurte and the Cascade Subaru team, many of whom are adopters themselves, are devoted pet advocates. Their partnership directly helps to save pets in need, give them a second chance, and complete families through adoption.
---
A Longstanding and Meaningful Partnership - Dan B
Cascade Subaru has supported the Conservancy for Cuyahoga Valley National Park for more than a decade. Through this partnership, the Conservancy has been able to offer children life-enhancing experiences at the Cuyahoga Valley Environmental Education Center, maintain miles of hiking and riding trails, and complete construction of our new Boston Mill Visitor Center. Of course, fundraising is the hinge upon which our programs turn, and this year, our fundraising events were wiped away by the Coronavirus. This challenged our staff to develop a new, innovative solution to take the place of one of our biggest fundraisers. Picnic in Your Park was conceived and produced as a drive-up event that replaced our annual clambake. Cascade Subaru immediately signed on to sponsor the event and provided cars, entertainment, support and the funds needed to pull it off. The event was a tremendous success! We were not surprised. We have learned over the years to count on Cascade Subaru. They have designated the Conservancy as the local charity to receive funds from the annual Subaru Share the Love Event, directing more than $200,000 to our cause. In addition, Cascade's corporate sponsorship brings us additional revenue to further our programs – especially those that directly benefit the children of Northeast Ohio. The Conservancy encourages children to become stewards of our environment through education and interaction with nature. Between the fall of 2019 and spring of 2020, we were able to welcome over 4,000 resident and day program students to our Education Center. Among our most popular programs are Rockin' at the Run, where students get to hike the Kendall Ledges trail and discover how geologic processes have shaped the land, and Among the Trees, where students search for and discover clues about who lives in a forest and how animals and organisms interact with their environment. Cascade Subaru's financial support also helps us maintain miles of park trails. Because of the pandemic, the park has seen an unprecedented number of visitors. The sheer volume of users requires us to be extra vigilant when it comes to trail maintenance. Finally, our partnership with Cascade helped us construct and open our new state-of-the-art Boston Mill Visitor Center. This "front door" to the park helps orient new visitors to the Cuyahoga Valley and connects them to our programs and landscapes. We are proud that Cascade Subaru, its customers, and its employees share our commitment to making the community a better place through efforts to protect, preserve, and keep our park beautiful for all to enjoy.
---
Cascade Subaru: Towpath Champions! - Katelyn F
The Ohio & Erie Canal and Towpath Trail are valuable resources for more than 2 million hikers, bicyclists, birders, kayakers and nature lovers who look for adventure, treasure our history and find inspiration in our natural resources. This trail provides physical and emotional connection to our collective story for the people who call the Ohio & Erie Canalway National Heritage Area home. Every year we know we can count on Pat Primm, owner and marketing manager of Cascade Subaru, to raise money by riding in the Ohio & Erie Canalway Towpath Century Ride. Pat has been one of our most reliable champions! Every dollar raised goes to the construction, maintenance, support and promotion of the Towpath Trail. But this is just part of the story! Cascade Subaru has been a committed Towpath corporate sponsor for years! The Towpath Trail melds perfectly with Subaru owners' adventure-seeking lifestyle. Our trailhead parking lots are packed with Subarus sporting every kind of roof and bike rack available. Over the past 12 years, Cascade Subaru has assisted in raising over $1,000,000 for the Ohio & Erie Canal Towpath Trail. Whether cycling 100 miles in support of trail development, volunteering to beautify our public spaces, or advocating for the Towpath Trail in our communities, Cascade Subaru has been a partner whose support we deeply appreciate.
---
Committed to the Animals - Amanda B
The Humane Society of Summit County cannot thank Cascade Subaru enough for their continued support of our lifesaving mission to rescue, rehabilitate, and adopt Summit County's most vulnerable animals. Throughout the years, Cascade Subaru has generously sponsored many events, including our annual Bark in the Park, Subaru Loves Pets Adoption Events, and this year, our Pawsibility Ball. But their partnership exceeds financial support – they are truly committed to helping our animals find their second chance. From showcasing adoptable pets in their monthly newsletters to hosting our Mobile Adoption Center at the dealership, Cascade Subaru enthusiastically encourages pet adoption and companionship. Our joint adoption event held in October each year has helped us find homes for over 100 pets! It is always a pleasure to work with Dave Hurte and the Cascade Subaru team, and we are all so grateful for their incredible support of our mission!
---
Thank You! American Red Cross Blood Drives! - Athena D
Dear Cascade Subaru: Thank you for coordinating 3 blood drives during the month of June 2020. We were very pleased with the results, and the willingness of the donors to share this life saving gift. The efforts of Cascade Auto Group have always been greatly appreciated and their support of the community blood program will go a long way toward replenishing blood supplies and ultimately saving lives.In addition, we very much appreciate your efforts during this crucial time. You may be interested to know that 86 donors registered, 10 donors were deferred, and 81 units were collected which will help save up to 243 lives! We also registered 25 first time donors. Amazing results! Again, thank you for your contribution and ongoing support of this important community program. I look forward to working with you again on an upcoming blood drive. Sincerely, Tina Daniels Account Representative American Red Cross
---
LLS Loves Cascade Subaru! - KERRI P
We are excited to be partnering with you again for Subaru Loves to Care in June. Thank you to the staff and Subaru buyers! On behalf of our patients and their families, you make a difference!
---
More Than Selling Cares - Kerri P
Dave Hurte, Subaru Brand Manager and Jamee Cook, Marketing Specialist, from Cascade Subaru in Cuyahoga Falls were excited to deliver blankets and messages of hope to the patients and families receiving treatment at the Western Reserve Hospital in Cuyahoga Falls. This is the third year of the collaboration between Subaru of America and The Leukemia & Lymphoma Society. When contacted to make arrangements for this year's delivery Jamee mentioned how much Cascade Subaru loves this partnership. While delivering, the team met Tom who is in the midst of treatment. When Dave handed him the Subaru Loves to Care bag with their logo and the LLS logo, Tom exclaimed "Thank goodness! Something that doesn't have cancer written all over it!" Being diagnosed with cancer can become an all-consuming reality but most, like Tom, don't want to be solely identified as "the patient." Subaru makes that happen with these simple acts of kindness that recognize that life happens beyond the walls of the infusion center. Matthew Smith, Manager of the Oncology and Infusion Services at Western Reserve Hospital was grateful for the visit and the continued support of both Cascade Subaru and The Leukemia & Lymphoma Society. LLS is honored to partner with Cascade Subaru and Western Reserve Hospital as we continue to lead the way to cancer cures.
---
Great car and amazing service! - Ashley H
The sales team at Cascade Subaru in Cuyahoga Falls is amazing. Mike Caporaletti and Matthew Harteis helped explain the differences in the vehicles and helped me pick a vehicle that is good for my needs. They were very helpful and knowledgeable without being pushy. I felt valued as a person and not just another sale. I also loved that I didn't feel like we were playing games when it came to making the deal. I had also ordered the trailer hitch and remote start and they were able to have them installed upon delivery! I am happy to recommend them to my friends and family! My new Crosstrek is fantastic! This is our first brand new car and we did a lot of research before our purchase. I had originally planned on buying a Ford Escape but after test driving the Crosstrek, I was sold! I love the practicality of the vehicle (in Ohio the AWD will be so nice!) and it is still a great looking car and fun to drive! Thank you for making it easy to get all of the features I wanted in one great vehicle! Even my dad whose has been an avid Jeep fan for years is looking at the Forester for his next vehicle. Thank you for a great car and an amazing car buying experience!
---
Economics for Success - Hannah M
Cascade volunteered at Woodridge Middle School with Junior Achievement to teach Economic's to one of the 8th grade classes. The classroom teacher said, "I'd like to thank you again for taking time out of your very busy schedules to come to my classroom last week. Each of you brought such a unique perspective to the students and the program. This week is always such a fun event and the students really did enjoy it. Yesterday and today, we've spent time "debriefing" and the students' take away on the week is quiet impressive. I could see the impact each of you had in their reflective writing and comments during class discussions. Your time and commitment served them well and will be with them as they move forward. You each made a difference last week and I'm so appreciative of your time and energy!"
---
Science Books for our School! - On behalf of W
"Just a quick note to say THANK YOU for supporting our students! Your work with Junior Achievement and Subaru Love Promises at Woodridge Middle and Primary school have made a major impact on our programs! Your efforts are appreciated and certainly do not go unnoticed!" - Walter Davis, Superintendent "Thank you so very much for taking great care of our Woodridge Primary students through your generous donations. Subaru Loves Learning is a wonderful program with high quality materials and great attention to detail. Our teachers are excited to bring in the content rich science books to life for our students. Thank you again for choosing us as your partner in education; what you're doing makes a real difference for our community." - Beth Harrington, Principal
---
NEOSOC Event at Cascade Subaru - Diane J
Cascade Subaru hosted an event for the members of the Northeast Ohio Subaru Owners Club (NEOSOC). Cascade staff and NEOSOC members collected personal hygiene items that were donated to a local organization, Cascade Community Development, Inc. On behalf of the Cascade Community Development board members and volunteers, we want to thank you for your generous support to help our local veterans. Your collection of nearly 200 personal hygiene items will help improve the quality of life for our homeless veterans; especially those living in the Valor Home.
---
Leukemia & Lymphoma Society Blanket Delivery - Rebecca H
The staff of Cascade Subaru joined staff and volunteers of the local Leukemia & Lymphoma Society to deliver cozy blankets, children's craft kits, and hand-made care cards (like the one pictured here) to local cancer patients and their families at Akron Children's Hospital. Cascade staff members interacted with patients, nurses and doctors, even distributing Subaru bracelets to all they met. The Leukemia & Lymphoma Society is so grateful for its national partnership with Subaru and for the wonderful local staff members at Cascade.
---
Junior Acheivement Volunteering - J A
When we think of the ideal Junior Achievement (JA) advocate, someone who recruits volunteers, helps find funding, advocates for the programs, and just goes above and beyond for the organization, there is no better example than Michelle Primm of Cascade Auto Group. Her list of accomplishments within Junior Achievement of North Central Ohio is extensive, including volunteering throughout the Greater Akron Area teaching personal finance and entrepreneurship to middle school and high school students. She is also hosting a volunteer appreciation event at Cascade Auto Group to show appreciation for all of the volunteers who support Junior Achievement of North Central Ohio. She even created a partnership between JA USA and the National Automobile Dealers Association (NADA), including the NADA Women Directors, to provide volunteer and funding opportunities to Junior Achievement offices across the country. But Michelle gives so much more than this list can illustrate. Michelle truly believes in the JA mission: to inspire and prepare young people to succeed in a global economy. She wants the next generation to have the opportunity to thrive in the world of work and contribute to the community. She brings her passion to the classroom and to Junior Achievement every time she steps through the door. Junior Achievement of North Central Ohio is honored to work with Michelle and humbled by her passion, expertise, and commitment.
---
Subaru and NWF Loves the Earth - Beth H
Thanks to Cascade Subaru for giving our students at Woodridge Primary School and opportunity to bring science standards to life through our very own wildlife certified habitat! We are looking forward to watching our garden grow.
---
St. Bladrick's Foundation Head Shaving Event - Ryan V
The St Baldrick's Foundation is a non-profit, volunteer driven organization that provides grants for childhood cancer research. They raised over $38 million for research in 2016 through corporate sponsors, general donations and their trademark head shaving events. I have been participating in this event for 6 years, my son Noah for 5 years and this was Steve's first time. This year our event in North Canton (at last count) had raised over $243,000! Of that, our team at Cascade contributed $1,040. The reason for head shaving events is not to collect the hair itself, it is a show of solidarity for the children that are living with cancer and fighting every day to get through it. Most people don't know that children's cancer is different than that of adults and treatments should be different as well, however up until recently children were being treated with procedures designed for adults and there was very little money and attention given to fixing that. Enter the St Baldricks foundation, in 1999 it was created by several friends in Boston who saw a need and started addressing the situation. Then in 2015, as a result of research supported by St. Baldrick's, the FDA approves a new drug that drastically increases the cure rate for high-risk neuroblastoma patients. It's only the third approved drug in 20 years made specifically for kids with cancer. Pictured: Steve Kulich, Noah Vandegrift, and Ryan Vandegrift
---
Cascade Subaru Loves Pets - David H
Cascade Subaru generously pledged our support of the lifesaving mission of animal rescue by becoming the title sponsor of Bark in the Park. At Cascade Subaru, we have been a corporate sponsor for PAWSibilities, the Humane Society of Greater Akron and have joined in sponsoring Bark in the Park for over six years. Bark in the Park raises money to benefit the severely sick, injured, neglected, abandoned, and abused animals that enter the Humane Society. Bark in the Park is a Pledge Walk and Pet Expo that benefits the thousands of animals that are rescued, rehabilitated, and rehomes in Summit County. At Bark in the Park the keystone event is the Pledge Walk which serves as a celebration of all the animals that have graced our lives while supporting the vital services provided by the Humane Society of Summit County. Leading up to the event, registered walkers gather pledges and sponsorship to support their participation. During the event is the Pet Expo. Cascade Subaru sets up a table to print dog tags. Pet identification tags are important in helping to reconnect lost pets with their owners.
---
Cascade Subaru & Humane Society of Summit County - David H
In 2011, Cascade Subaru generously pledged their support of our lifesaving mission of animal rescue by becoming the title sponsor of Bark in the Park, and since then, their support has not waned. The annual spring fundraiser draws over one thousand animal rescue supporters to Springfield Lake Park and celebrates the lives of animals in need through a pledge walk, pet-related activities, and demonstrations. Bark in the Park is the Humane Society of Summit County's second largest fundraiser, annually raising over $50,000 in donations, and is instrumental in increasing HSSC's community exposure as well as animal welfare awareness. Cascade Subaru extends their support of our mission in other ways throughout the year as well. Cascade Subaru is always eager to help by offering to organize food donation drives and helping to increase our community's awareness of animals in need.
---
Cascade Subaru Loves Learning - Dave H
For this year's Subaru Loves learning, Cascade Subaru donated school supplies to the children at Woodridge Primary Elementary School on October 12th, 2016. Cascade Subaru is proud to take part in this yearly event and help support the local community. Thanks to Michelle Perrow at Woodridge for making this all possible.
---
Cascade Subaru Veterans Event - Diane J
Cascade Subaru and the Veterans Service Commission of Summit County were able to raise 1,236 items for our local veterans community this past June. Thanks to everyone who participated in this years event. We look forward to helping support a great cause again next year.
---
Preserving the Cuyahoga Valley - Dave H
For the past 3 years the Cascade Auto Group and The Conservancy for Cuyahoga Valley National Park (CVNP) have joined efforts to help raise money for the local non-profit as part of Subarus Share the Love event. The Conservancy helps engage public support and provide services to enhance public use and enjoyment of the national park. Our Subaru showroom will be filled with local volunteers from The Conservancy on the weekends during this holiday season. Members from The Conservancy will happily share information about the parks education and restoration programs. Part of the proceeds will go towards the Cuyahoga Valley Environmental Education Center (CVEEC) which helps to educate over 9,000 children all year long through residential, day, and summer programs. Proceeds will also go towards the Volunteers-In-Parks program which is around 6,700 members strong. The Volunteers-In-Parks supports planting trees, building trails, restoring native habitats, providing visitor services, and more. In the past, The Cascade Auto Group and The Conservancy have raised $16,322.27. If you have questions or wish to donate towards The Conservancy for Cuyahoga Valley National Park, please visit conservancyforcvnp.org or call (330) 657-2909.
---
Cascade Subaru supports Cuyahoga National Park - David U
The Cuyahoga Valley National Park is regularly one of the most visited parks in the country, and Cascade Subaru has a long-standing relationship with them. We support their goals of maintaining there "NE Ohio Trails Forever," which has over 100 miles of hiking trails to observe nature. The CVNP Environmental Education Center brings underprivileged inner city kids to camp where they are exposed to explore nature. They learn about preservation through the three R's: reduce, reuse, and recycle. Many of the kids have never been out of the city and this opens a whole new world to them. It really hits home when one of the kids sees or learns something about the world around them that was entirely unknown. Cascade Subaru is proud that their contributions to the park help these children grown and learn while allowing everyone to observe the beauty of the world around them.
---