Serving Stow, Hudson and Akron, OH
Complimentary
Multi-Point Inspection
Keep your Subaru in top condition. Let our Subaru trained Service Technicians perform a thorough multi-point inspection.
Valid only at Cascade Subaru. A complimentary MPI includes inspection of interior and underhood; exterior, suspension, and drive components; tire wear; brake pad wear/rotor condition; and battery condition. Services may be recommended.
Disclaimer Details/Terms and Conditions
The Multi-Point Inspection Form: Helps keep your Subaru in check.
Your Express Service Representative can review this easy-to-understand checklist with you after your service is complete. The Multi-Point Inspection form lets you know how your Subaru and its key systems are performing after you visit our Service Center.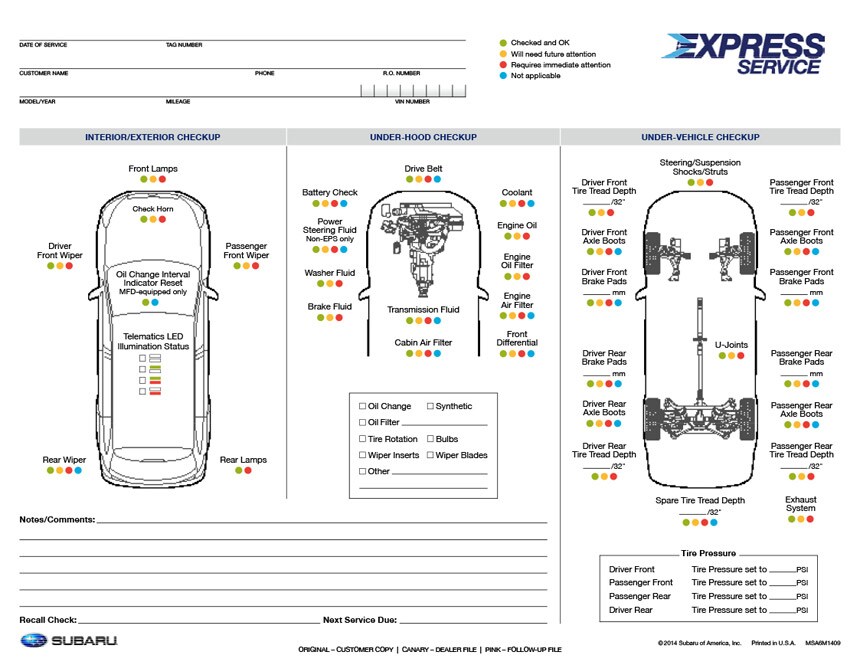 At Cascade Subaru, we'll take care of minor maintenance services – including the service intervals found in your Warranty & Maintenance Booklet – through Express Service. These include:
Engine Air Filter Replacement
Battery Service & Replacement
Cabin Air Filter Replacement
Tire Pressure Adjustment
Wiper Blade Replacement
Tire Tread Depth/Condition Check
Light Bulb Replacement
Fluid Top-Offs
Battery Health Test