Cascade Subaru offers Express Service, Oil change in Hudson & Cuyahoga Falls, OH!

It serves you well to keep a new Subaru Crosstrek well-maintained and cared for. Given that roughly 95% of Subaru models sold this last decade are still on the road, enhancing that dependability is done with regular servicing.

Luckily, the greater Akron area may look to Cascade Subaru and their Express Service department toward vehicle maintenance and repairs done right.

The Benefits of a Cascade Subaru Express Service Oil Change
There's a basket of benefits that comes with an oil change with Cascade Subaru Express Service. Each aspect is meant to ensure peak performance of your vehicle, and to find those slight nuances that may become issues. Call it a multi-point inspection without the formal request.
Once on the lift, your vehicle's oil is drained, and a new oil filter is installed.
Next, an inspection of your tires and wheels takes place. Express Service technicians will examine treads and sidewalls for wear and tear. Uneven tread wear and lack of tread depth may signal wheel-alignment issues or need of routine tire rotation. At this point, each tire is properly inflated.
Cascade Subaru Express Service technicians will also pore over those brake system parts that may have considerable age or corrosion. The components of pads, calipers and rotors, as well as fluid lines can be worn quickly. In spite of their importance to vehicle functioning, brake systems are an easy, routine fix.
When your vehicle is lowered, the oil is replenished. And those vehicle systems that require fluids will be checked and topped off accordingly. Engine belts and hoses are also examined for wear, loose fits and punctures. And your vehicle's battery will be cleared of toxic residue caked around connections.
Important is clean air for the engine and cabin alike. Cascade Subaru Express Service technicians will examine each filter and replace as necessary.
You might not expect such servicing particulars during an oil change, but that's the Cascade Subaru Express Service difference. Our thorough technicians are ably skilled and trained to go that extra step.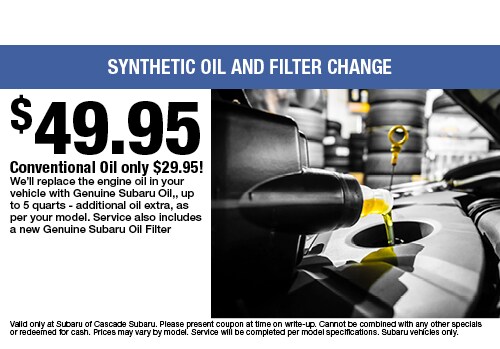 Cascade Subaru Express Service's Other Servicing Features
All vehicles have certain maintenance protocols or servicing dates to be mindful of. And if your oil was changed recently, each facet of Cascade Subaru Express Service's oil change regimen can be duplicated at-will, given your vehicle need.
So, should your Subaru Forester have trouble starting or there's lack of power elsewhere in the cabin, have your vehicle battery tested. Headlamp and taillight bulbs may also be replaced, while electrical connections are examined.
With streaking left across your vehicle windshield, have a Cascade Subaru Express Service technician replace your wiper blades as needed. Should the wiper fluid reservoir be next to dry, our technicians will fill with fluid to the appropriate level.
Given the importance of tire health, should there be a foreign item lodged, don't remove it yourself. It will pay to bring your vehicle down to Cascade Subaru Express Service and have our tire technicians take a look. They can easily remove the impediment, and plug the hole while patching as necessary. Though you may have all the tires inspected for proper tread depth and condition overall. Neglecting tires may prove catastrophic, especially at high speeds.
Governing tire vitality is wheel alignment. If you've experienced a "natural" pull to the left or right, especially at top speed, your wheel alignment needs adjusting. This is performed by state-of-the-art equipment to finely tune wheel tilt in all directions.
That Cascade Subaru Express Service Difference Near Akron and Stow
Maintaining your vehicle is a must. And don't ignore the "Check Engine" light should it start to flicker. No appointment is necessary for any Cascade Subaru Express Service maintenance performance or repair.
So, visit
our local Hudson location
today.